Let's fill this space up a bit, shall we? Let's.
About this creation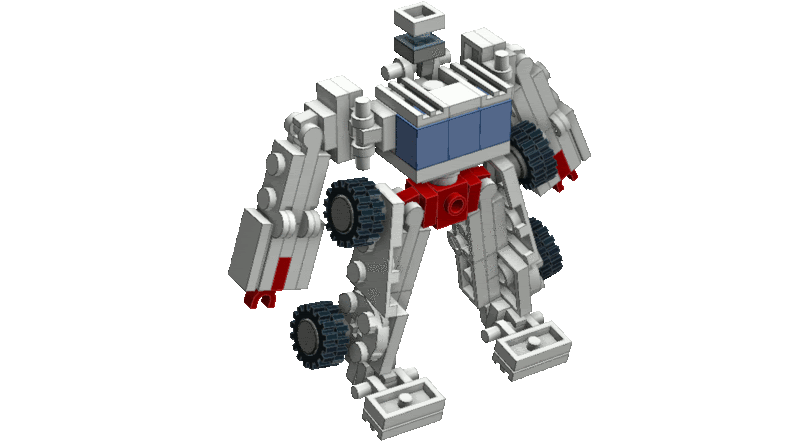 Why didn't I add this to my "My Own" sub-line? Because while the vehicle mode is a little unrecognisable, the robot mode is deliberately intended to evoke memories of the G1 character. Technically to be a "My Own" version I'd have had to change the robot design in some way, ie. Skinnier robot mode, new alt mode, altered functions etc. Close enough to tell who it is, but different enough not to be a copy.

This is still my own design, but not my concept, Hasbro/Marvel did the leg work this time.






This did not start out as Ratchet, nor did it start out as a Cybertronian vehicle, but as I messed with the design I felt the shape and gappiness (is that a real word?) didn't really make it look much like an Earth ambulance, at least not this century anyway.





Originally this was actually an update of my "My Own" Optimus Prime (I might upload some images if I find time this weekend).




As I said, the results didn't really work the way I wanted so I swapped some stuff around, changed the colours and voila Ironhide....




...Ah, but as Ratchet and Ironhide were originally the same toy in different colours I thought "I wonder what it would look like in white?" the result I actually liked more so here we are - Ratchet.




I did think to add weapons / Medical tools, but I need to do a little more research on previous toys / cartoon models for inspiration.


With Minifig for scale. Note, while the robot mode is (almost) to scale the vehicle form is waaaay too short.



Bayformers repaint

Comments, suggestions, advice and critiques welcome, rate if you like and please do not spam.




Bonus - some random images I created while trying to (unsuccessfully) animate the transformation.
Building instructions
Download building instructions (LEGO Digital Designer)
Comments
Add a comment
| | |
| --- | --- |
| | I like it |

May 3, 2014

I think you are the best LDDer on MOCpages. Seriously. This is amazing.
| | |
| --- | --- |
| | I like it |

March 30, 2014

A very cool little transformer, I really like both modes. Can't wait to see what you come up with using the new hinges (when released in LDD).
| | |
| --- | --- |
| | I made it |

March 29, 2014

Quoting Bumblebee5253 . That's awesome, and how do you make those LDD renders?

These are just normal screen shots from LDD, pressing Ctrl K.
| | |
| --- | --- |
| | I like it |

March 29, 2014

That's awesome, and how do you make those LDD renders?
| | |
| --- | --- |
| | I made it |

March 29, 2014

Quoting Stephan N very very cool

Thanks Stephan
| | |
| --- | --- |
| | I like it |

March 29, 2014

very very cool
| | |
| --- | --- |
| | I made it |

March 28, 2014

Quoting David Roberts I think that both the vehicle and robot modes look good on this build.

Thanks David :D
| | |
| --- | --- |
| | I think that both the vehicle and robot modes look good on this build. |
More from andros
More across MOCpages