The new face of vengeance -- or a tangerine.
About this creation

Name: Onadus
Species: Toa
Race: Unknown
Alignment: Chaotic Good
Allegiance: Outcast Toa
Occupation: Outcast Toa second-in-command, aerial force, demolition
Element: Plasma
Powers: Flight, super speed, projectile throwing, plasma control, crack shot.
Kanohi: Kakama, mask of speed. Modified by Jethryn to give him additional powers from Ruru, mask of Night Vision.
Personality: Cynical, pessimistic, argumentative. Believes he has a destiny to reshape the society of Mata Nui. In combat, strong and diligent in carrying out and delivering orders.
Theme music: Skillet - Rise (music video version)

For the first chapter of his story, read Here.
Thousands of years had passed, and Onadus still didn't feel any closer to victory.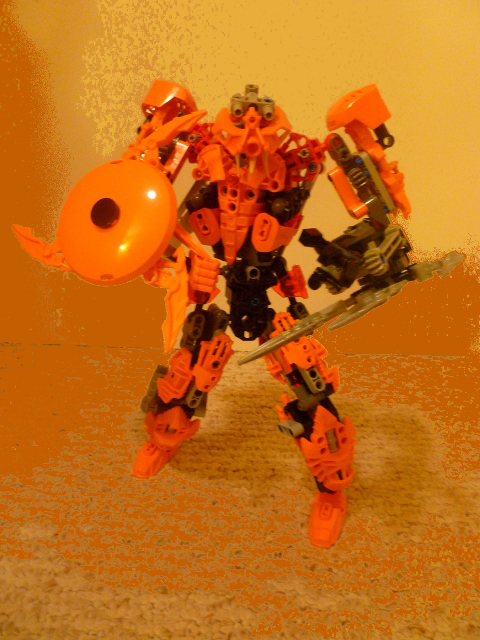 He wondered why he had signed on to this in the first place. Jethryn had come to his home in exile, and asked him to join a team of secret heroes he was forming. To Onadus, it sounded ideal -- they would build up a force of outcasts and misfits, and eventually, be strong enough to fulfill destiny - his destiny, that is. The experienced Toa of Plasma was chosen as deputy for the fledgling band.


But here he was, and it seemed like nothing was good. After the deaths and resignations of some, the Outcasts had been reduced to four - himself, Jethryn, Jethryn's protégée, and A mechanized Matoran. Not the best force to start a revolution with.
In addition, age seemed to be catching up with him -- he was older than Mata Nui himself, and it was starting to show in his voice and appearance. But was he going to let that stop him? No. He would fight on, until he won, or until he died.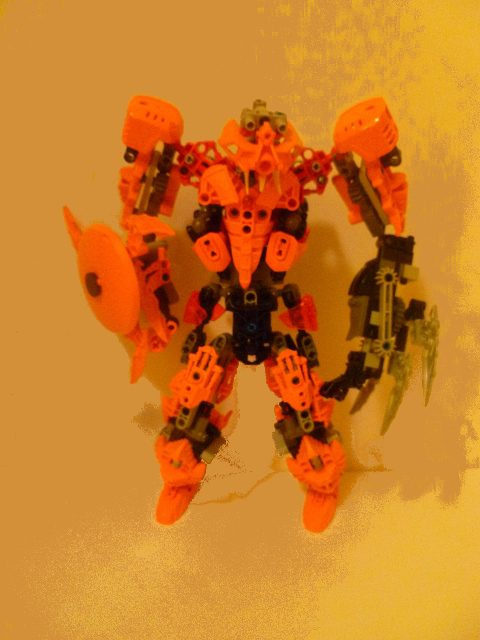 4.W.C.:3rd Version of Onadus. Already. He's an integral part of my story, pretty much the one who started it, and his ideals regarding the Outcasts (which you should have picked up from the story above) are basically the opposite of Jethryn's, making for an interesting matchup.


The First Version was basically an Inika build, with a modified torso to make him taller, and custom upper arms that resembled the pre-molded ones. It also introduced his shield. In the mostly custom Version 2, I scrapped the cape in favor of larger folding wings, added a shoulder-mounted plasma cannon and scissor blade, replaced his Noble Kakama with a Great one, and replaced his silver shield blades with plasma elements. Though I liked it at the moment of its completion, I later realized that it was seriously messed up -- especially in the torso, with was hollow inside, and the legs, which looked unnaturally flat.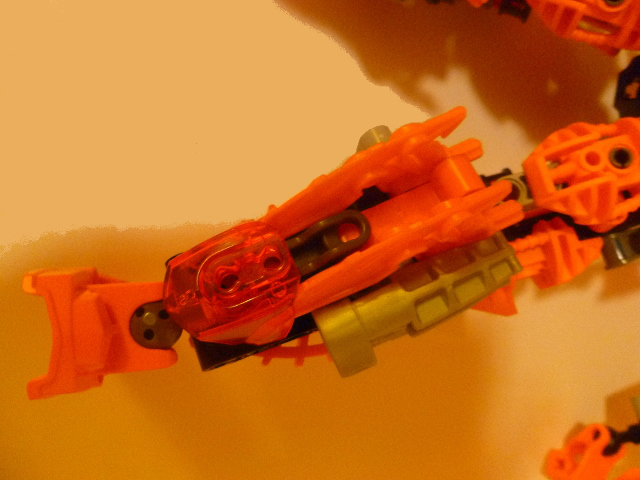 As with most of my MOCs, I started from the lower legs. I inverted the liftarms that made up the lower legs of V2, and used a Hero Factory lower leg to provide the ankle joint. I rounded out the design with some orange blades and an HF plate in trans orange, for blacklight effects.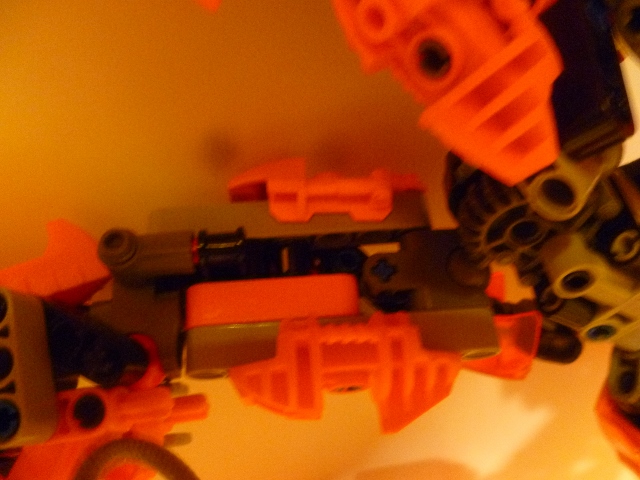 My original design for the upper legs used the shoulder elements from the previous version as hip armor. However, my attempts at that were not very posable or good looking. So, I reverted to using Drakaal's leg designs. While we're on the subject, I'll say here that I think Onadus is a Titan -- due to the fact that he uses extra support for the legs.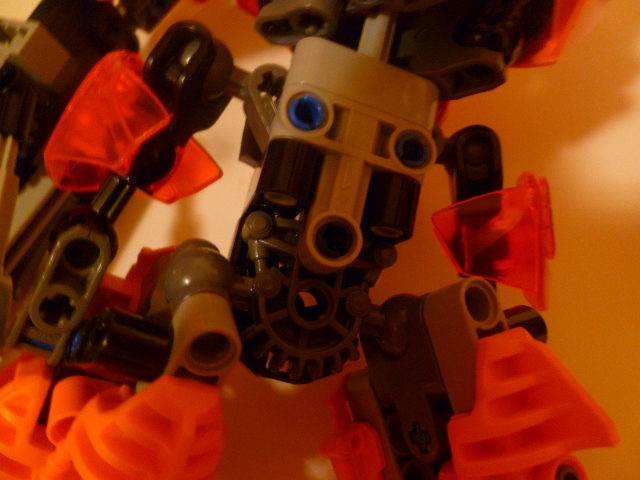 The waist is basically the same design as in V2. I changed out a few pieces.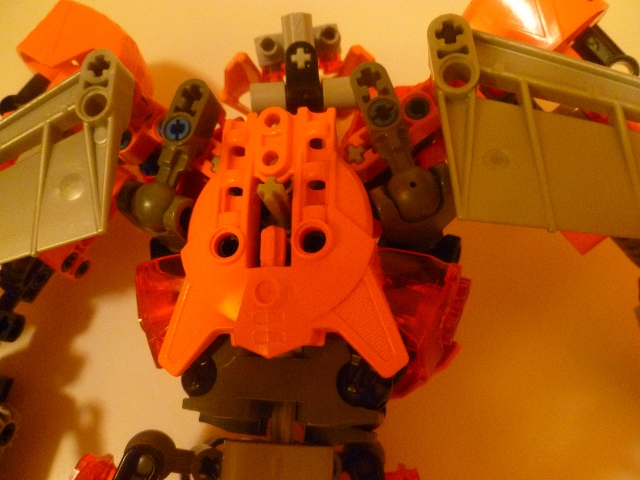 V2's torso had overly wide shoulders, without much bulk. With this version, I decided to base the torso off of Vergeis' design. I (sorta) rounded out the bulk with a construct of HF bone.
The wings still fold back, although not as much anymore, and unlike V2, the back looks decent with the wings unfolded.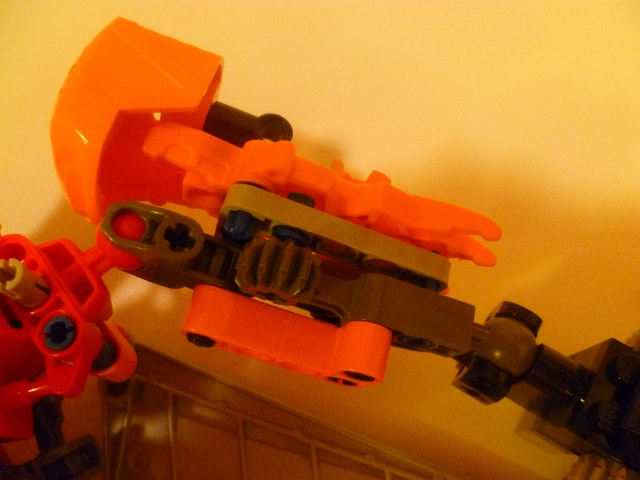 Most of you know that arms aren't my strong point -- I tend to use standard ones a lot. I've tried recently to make some custom and more posable arms. My first design appeared on Lectrahk. This design uses Hordika arms that appeared on V2's shoulders.
I switched around the locations of the shield and scissor blade. The shield isn't very practical anymore hand-held (given his size), but it would work protecting the forearm. Also, it could be picked up by the posable hand on the left arm and thrown.
Most of the V2 left arm was prosthetic (at least in intent.) Here I've made the upper arms symmetric and only made the lower arm prosthetic. The first attempt at the prosthetic arm was a pretty bad TECHNIC one. So I decided to smooth it out some by integrating system.



The head. I wanted to include a beard (at least a small one) on this version, since he's a rather old character. That was the basis of this design. Head designs are really difficult - since you need just the right pieces in the just the right places.

P.S. He has a Custom BIONICLE Wiki page.
Well, that's it for this MOC! Ratings, comments, and musings about the secret message are all appreciated. (Wait, did I say secret message?)

Comments
Add a comment
| | |
| --- | --- |
| | I kind of like it, it seems nice. However, the pictures don't reveal much. They're really rather orange tints, which makes for poor viewing of an orange model. Good moc though. |
| | |
| --- | --- |
| | I like it |

March 5, 2014

Pretty nice overall, but the feet are a bit small proportionately. And an orange moc on an orange background doesn't work out so well, edited or not. :P
| | |
| --- | --- |
| | I like it |

March 2, 2014

Very clever use of that piece that you used for his eyes!
| | |
| --- | --- |
| | I like it |

February 23, 2014

I like his shield
| | |
| --- | --- |
| | I like it |

February 22, 2014

Epic!
| | |
| --- | --- |
| | I like it |

February 20, 2014

Pretty nice. Feet do look a little too small, but I do appreciate the much nicer and much more proportional wings.
| | |
| --- | --- |
| | I made it |

February 20, 2014

Quoting Cevka . Nice moc. I also spelt "tangerine" with the HTML letters. ;)

Good for you... pity you don't know what it means yet. :P
| | |
| --- | --- |
| | I like it |

February 20, 2014

Nice moc. I also spelt "tangerine" with the HTML letters. ;)
| | |
| --- | --- |
| | I like it |

February 20, 2014

Wow, that is awesome. I don't know what's "good" in bionicle, but the shaping here looks great and the colors do too. Nice build.
More from Hawkflight
More across MOCpages