An Imperial Navy galleon with three decks carrying fourteen guns, over 100 studs long, and dangerously understaffed.
About this creation
I absolutely love the Imperial Flag ship (10210)! When I got the kit as a gift for my 30 birthday, I put it together with two dear friends, all building at the same time. It was that night I knew that I wanted to expand on the kit.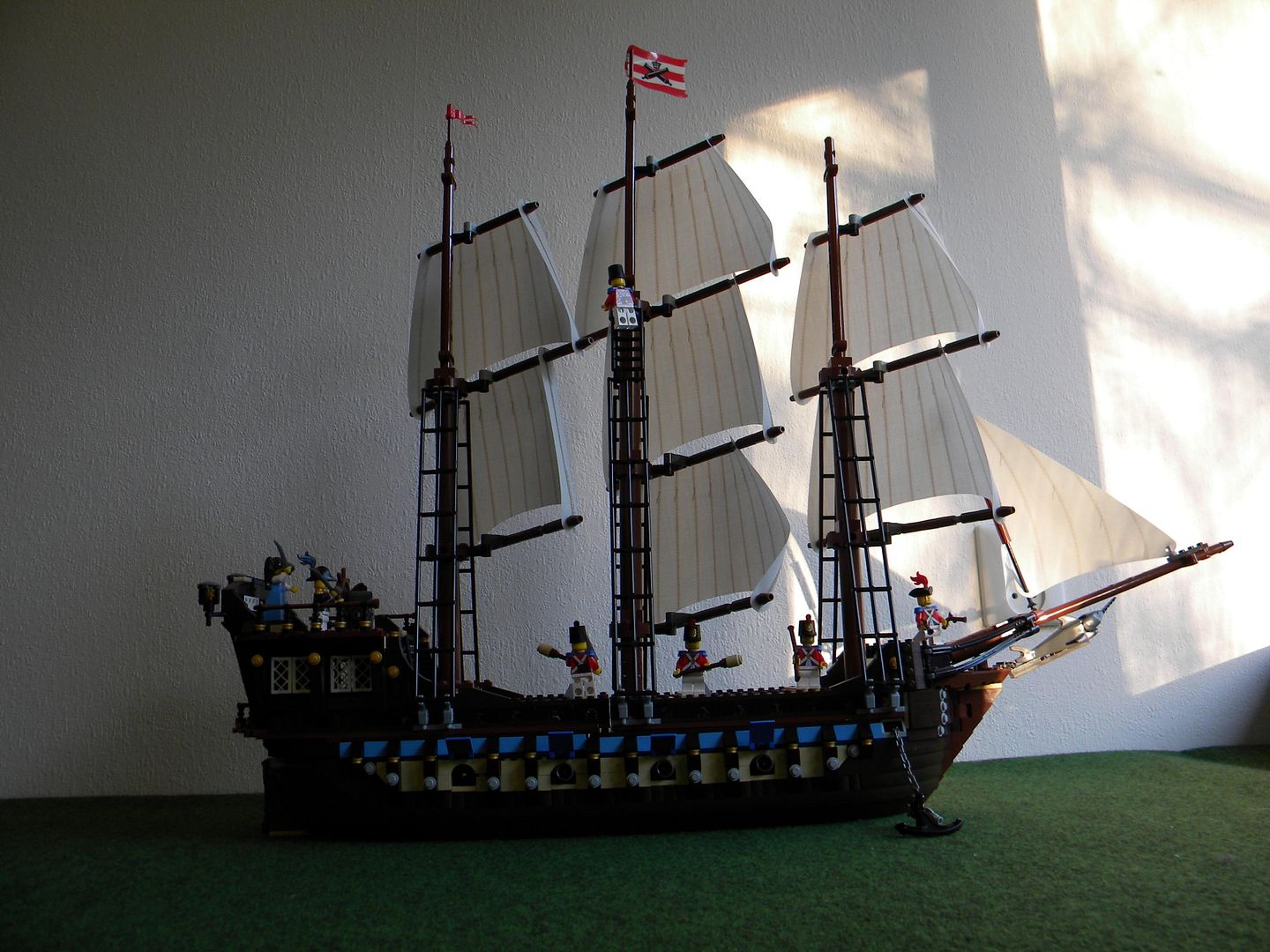 I wanted to keep it looking like the original, as if De Bruyne Ster is the big sister ship of the flagship.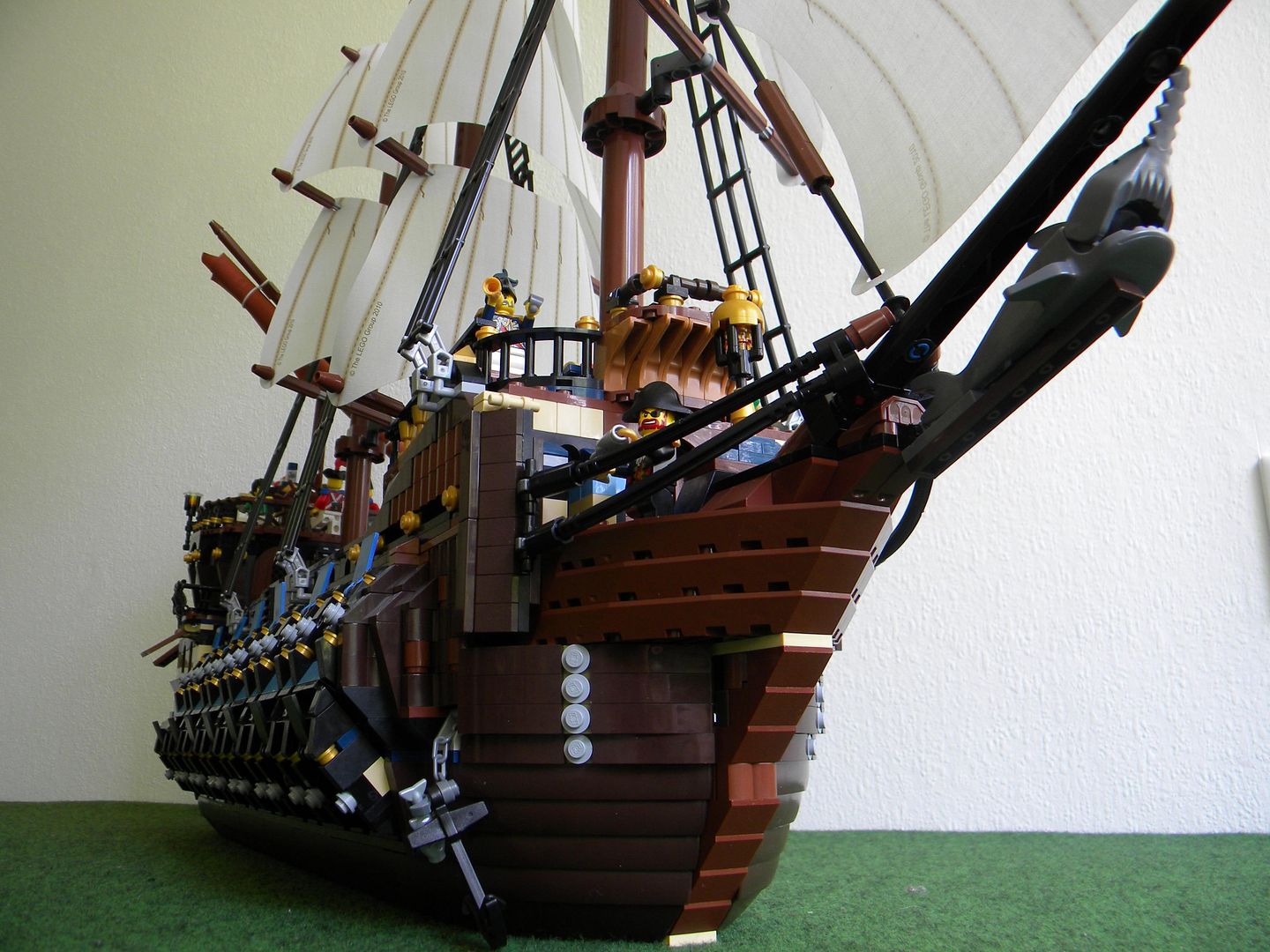 In the year before my dark age, I built ships for the soldiers I've got from Sinterklaas in kit 6276.


I made a small ship for the town of Blockerdam, but 'De Bruyne Ster' was my first serious attempt a ship.


De Bruyne Ster is a SHIP, it measures over 100 studs long tip to toe...


The idea for the slanted bow came pretty quickly, and the realization that I could not build both sides came soon after…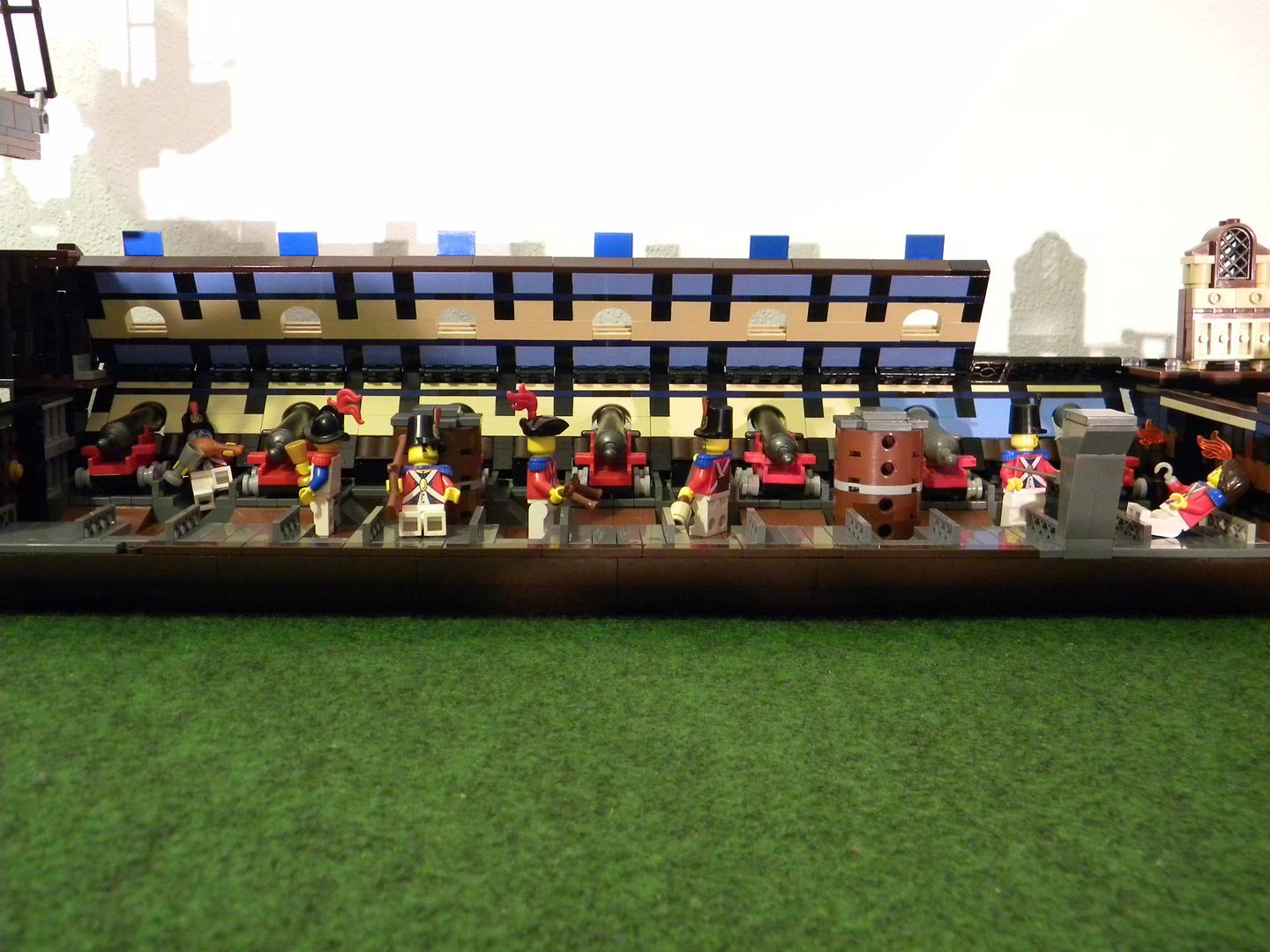 Making the cut-away ship was tricky to make modular, and to make it solid enough!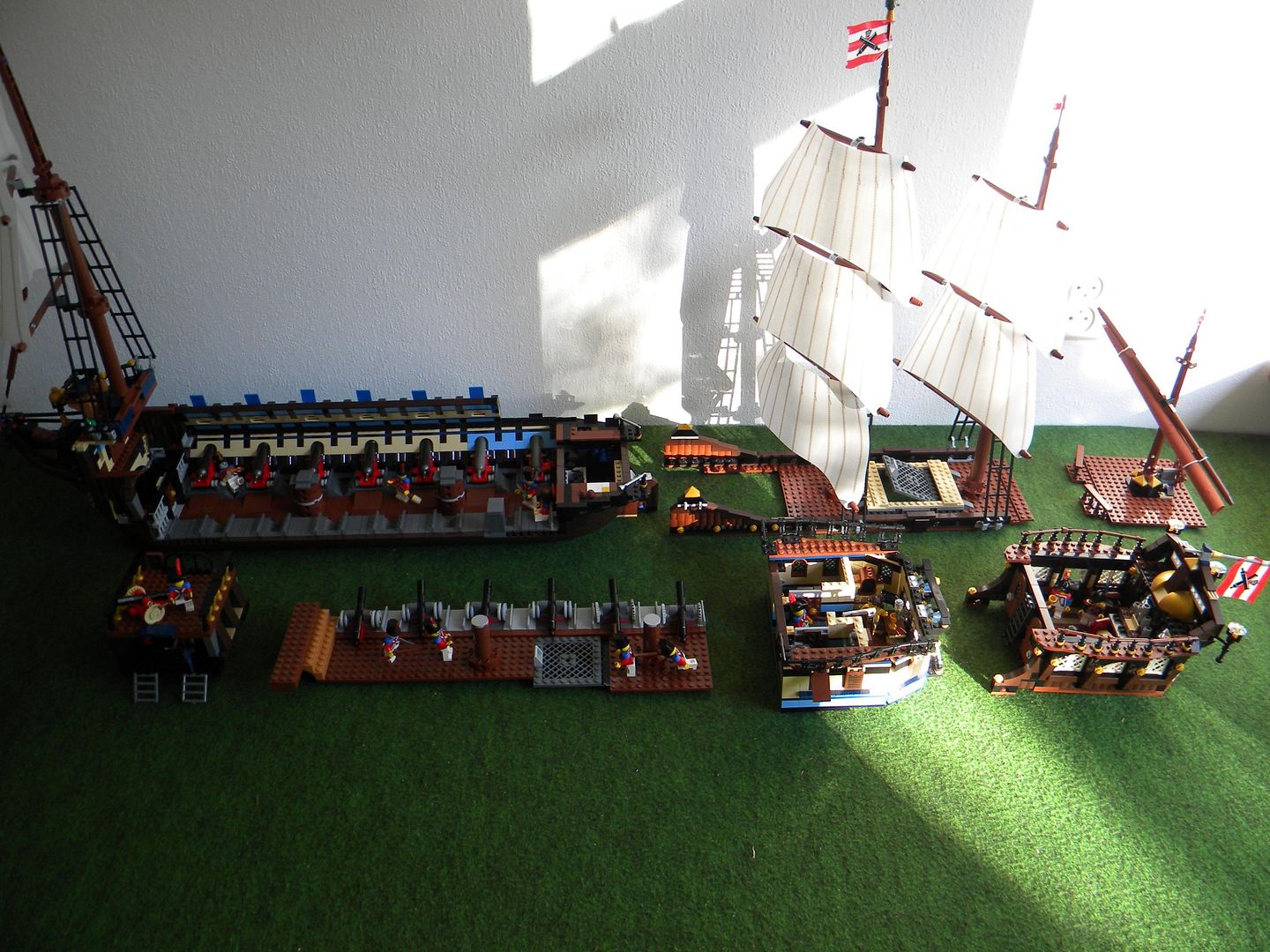 However, building it open-sided gave me the perfect excuse to throw in a finished interior and take nice pictures of it!


The two decks under the upper turned out to just have the minimum height, however, completely tiling the second deck would have made it just too low…


The idea to have the castle slant forwards was a lucky find.


But to do the same with fore-castle was really tricky, it was very fragile to work on!


Having the castles at a slight slant, really gave De Bruyne Ster the curved shape of a galleon.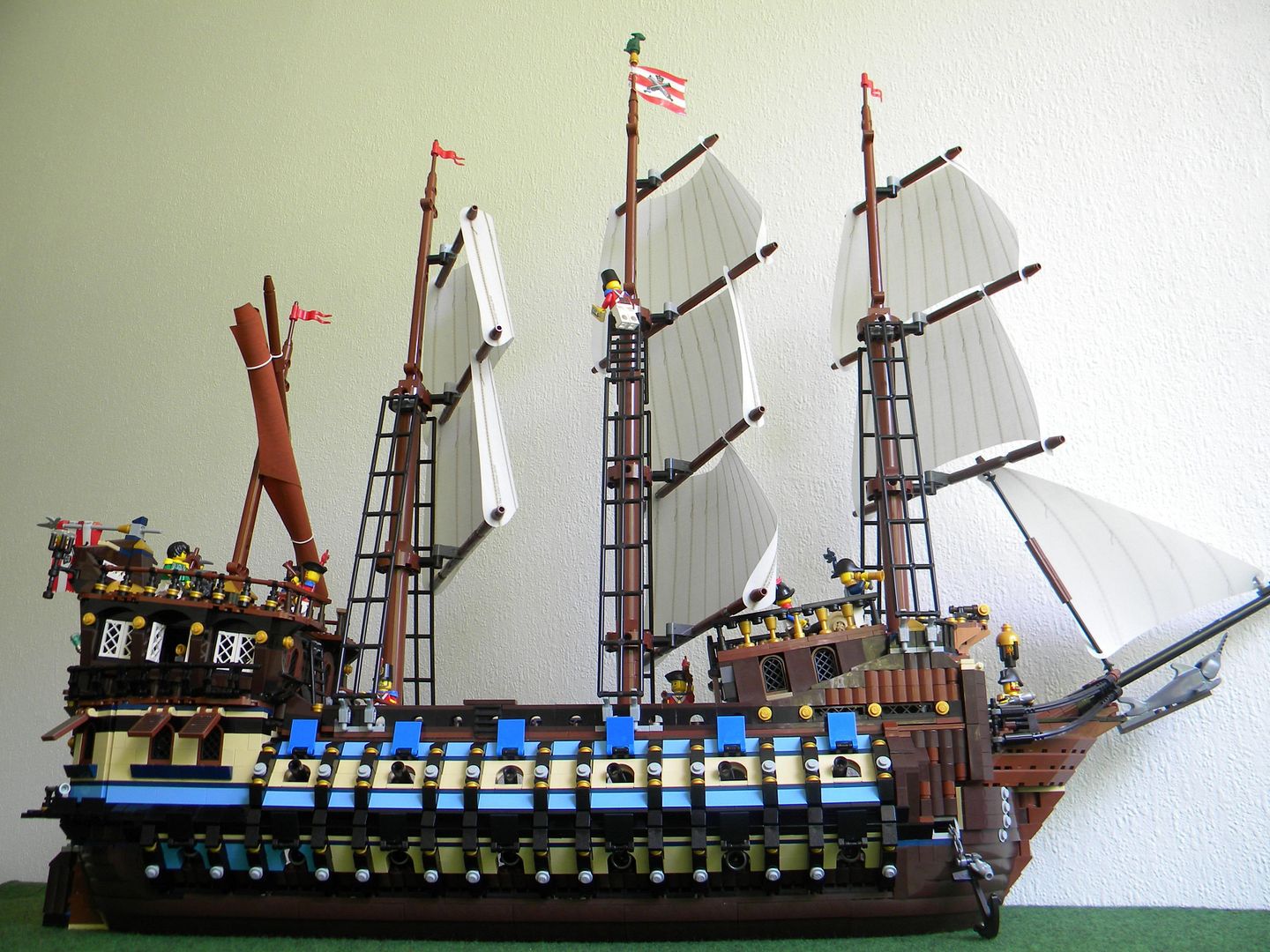 Like every galleon it has a gallery


It had to have an additional sail; if it would have the same rigging as the original, it would be inferior in speed…


So I put a lateen rigged sail on the back.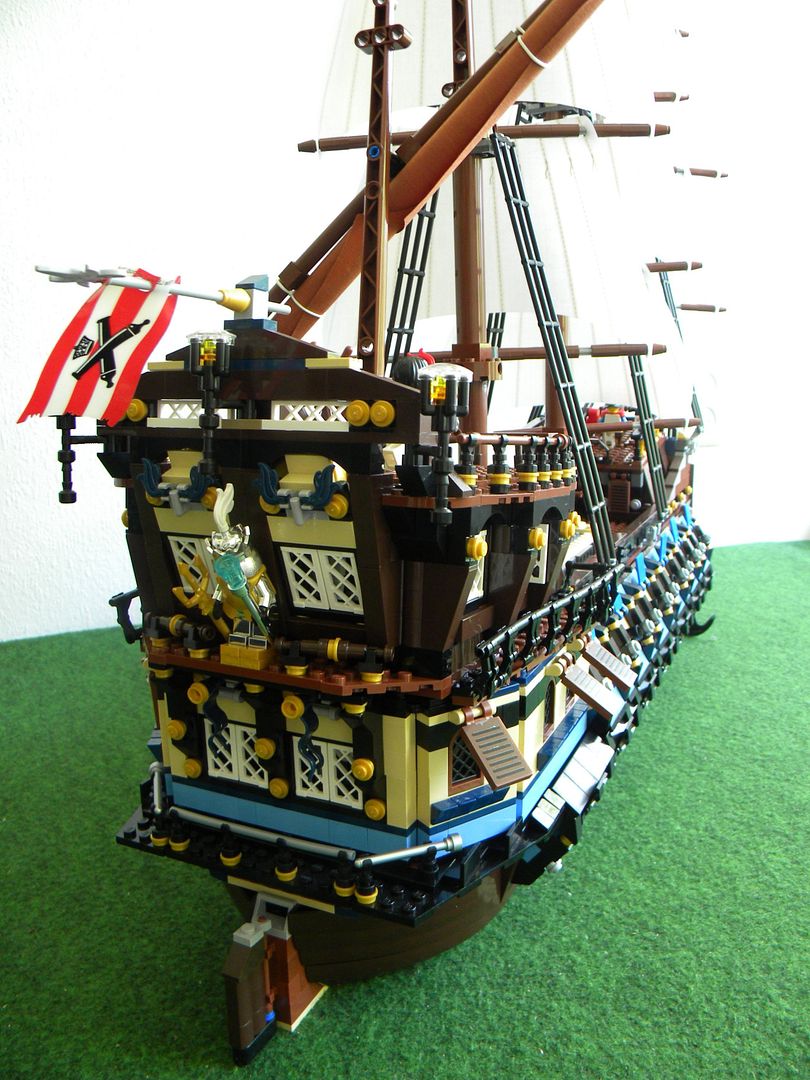 It has to stay furled though… it are the two sails from Jabba's sailbarge rolled into one…


It carries 14 guns, 7 heavy and 7 light canons.


Only thirteen fit below, but the fourteenth is for good luck!



Though the second deck was built to support the LEGO canon, I did not have nearly enough canons in my collection, so I built my own design


In the end, I think they look cooler than LEGO's own design!



I sort of forgot the kitchen, and ended up cramming it in the forecastle…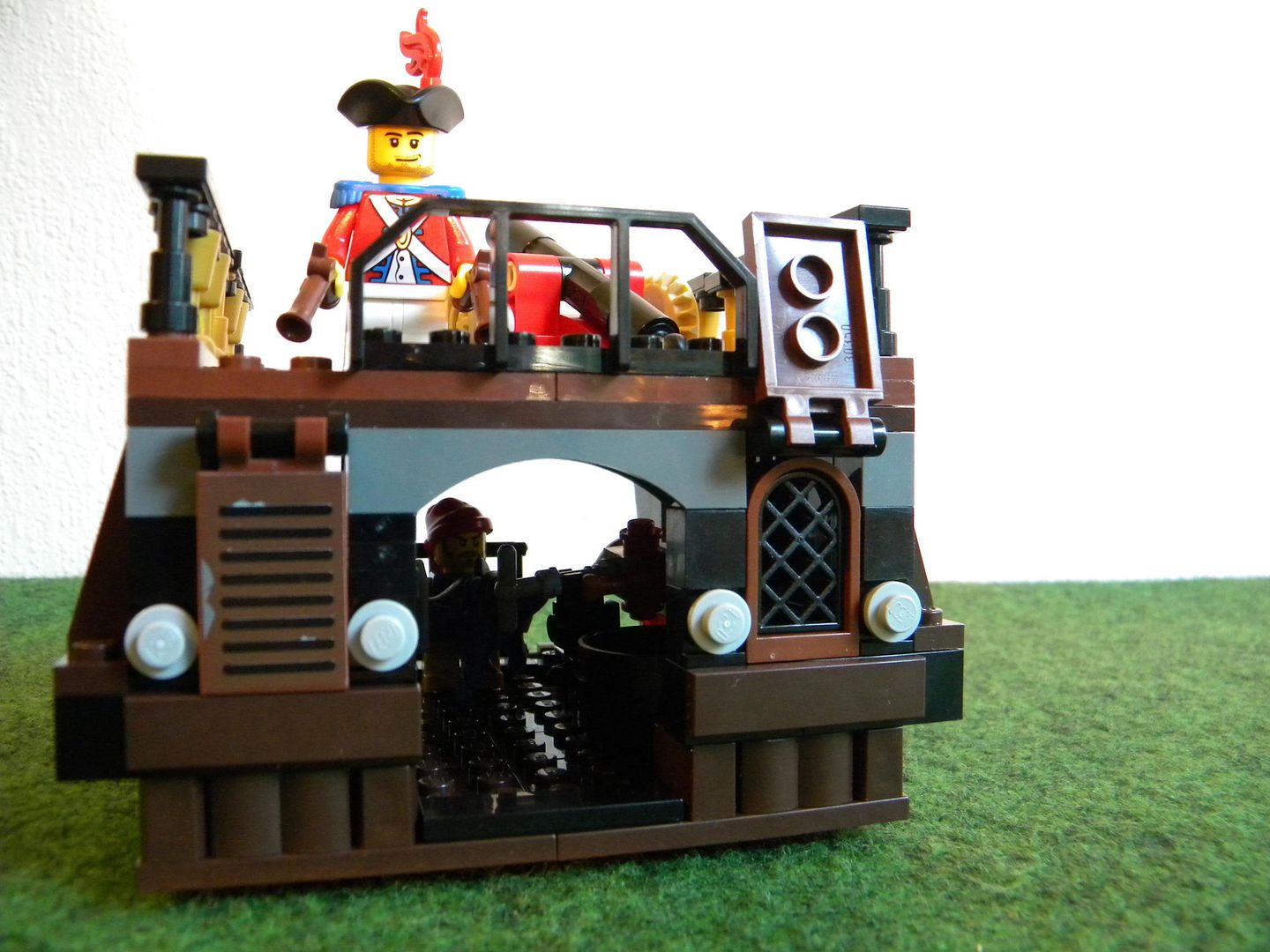 The previous kitchen is converted to the powder room!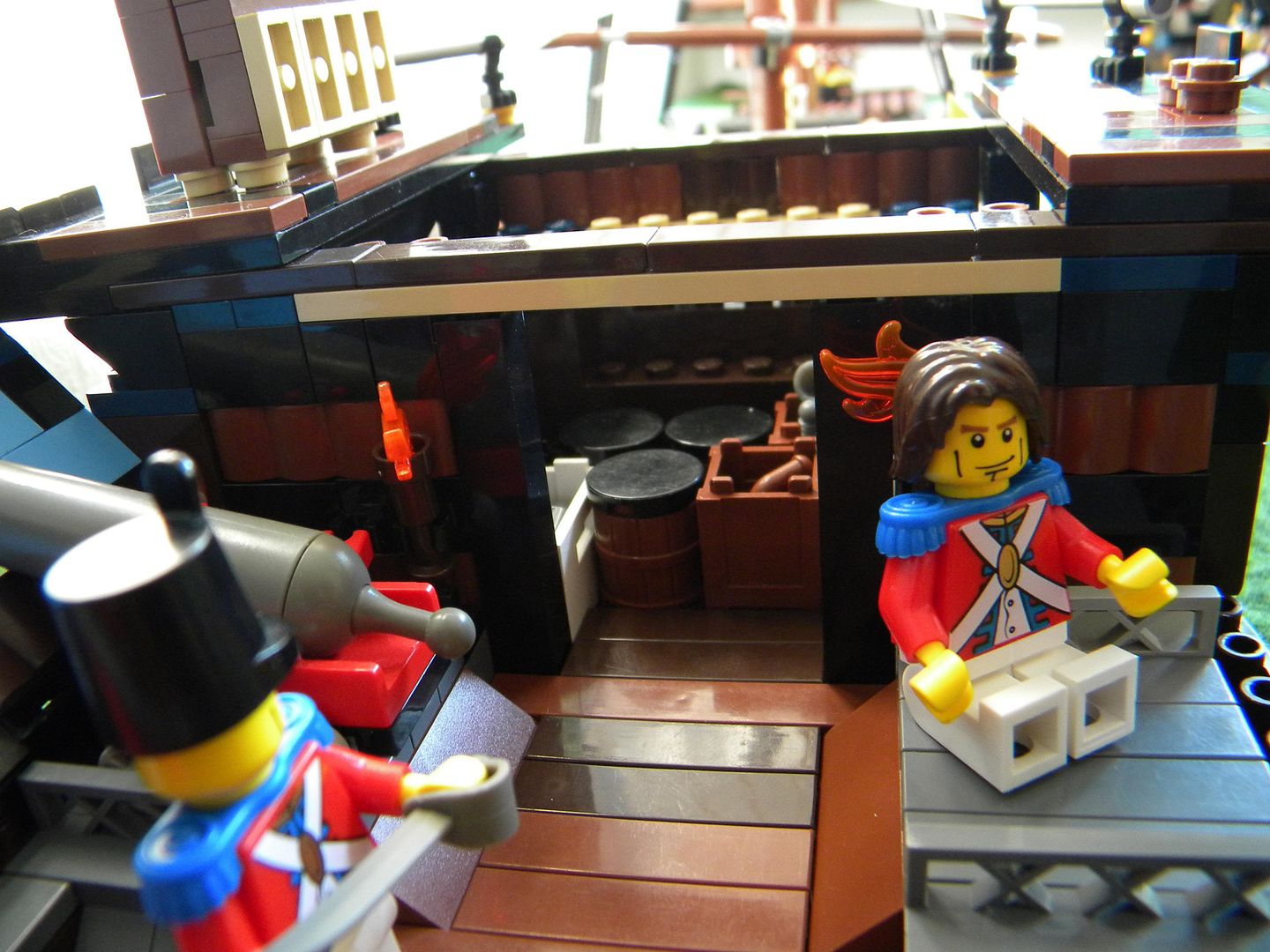 Building this door was a challenge; I did not want the forecastle to be too high, but I did want a 'proper' door…



On the inside it is a bit funny, and I don't think a bit realistic, but all decks are assessable!


The lower deck can only be reached through the central hatch


I couldn't resist putting in the new half-arches from the Prince of Persia sets…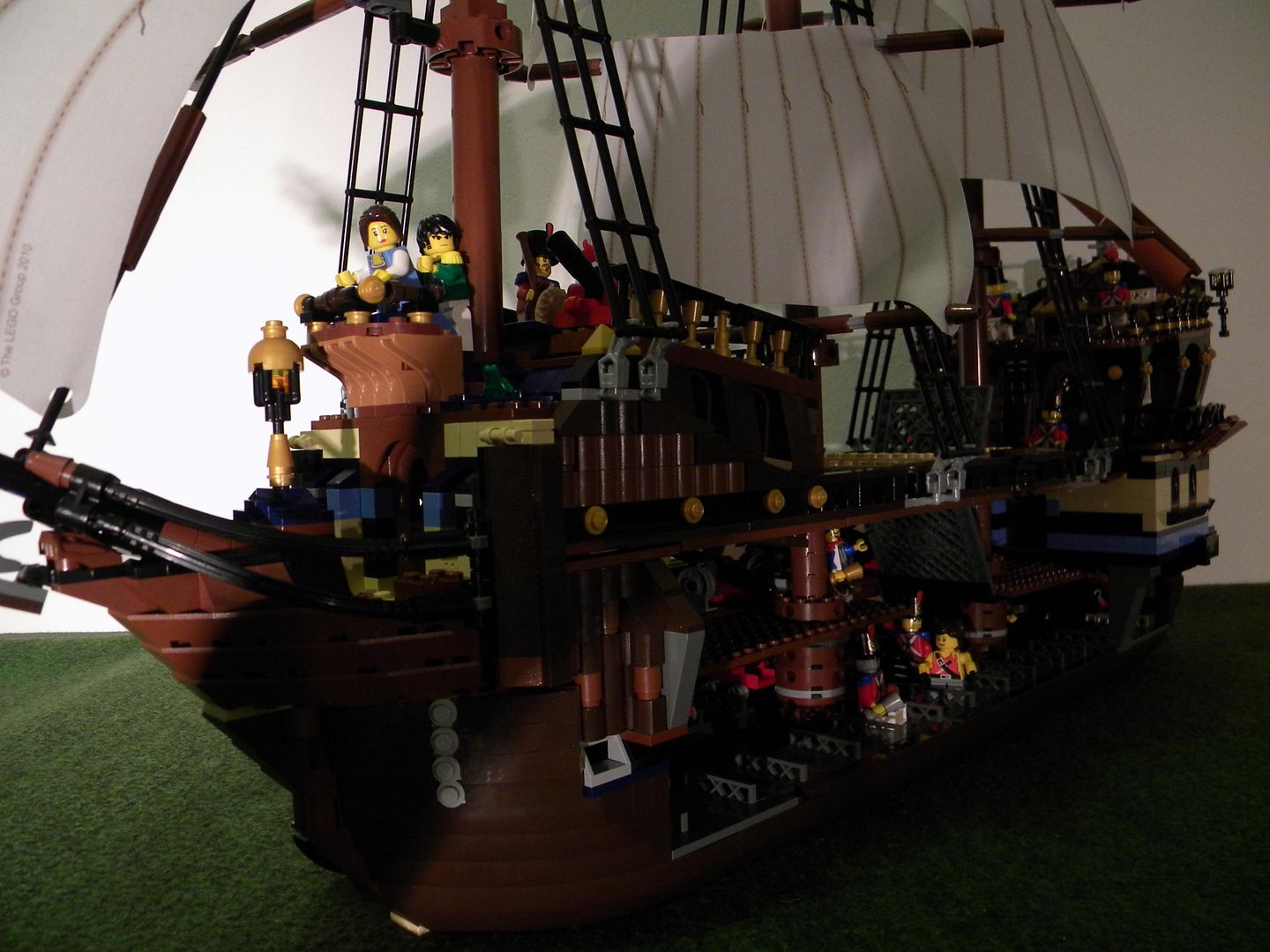 There are three cabins in the aft.



Here sleep De Heeren van de Bruyne Ster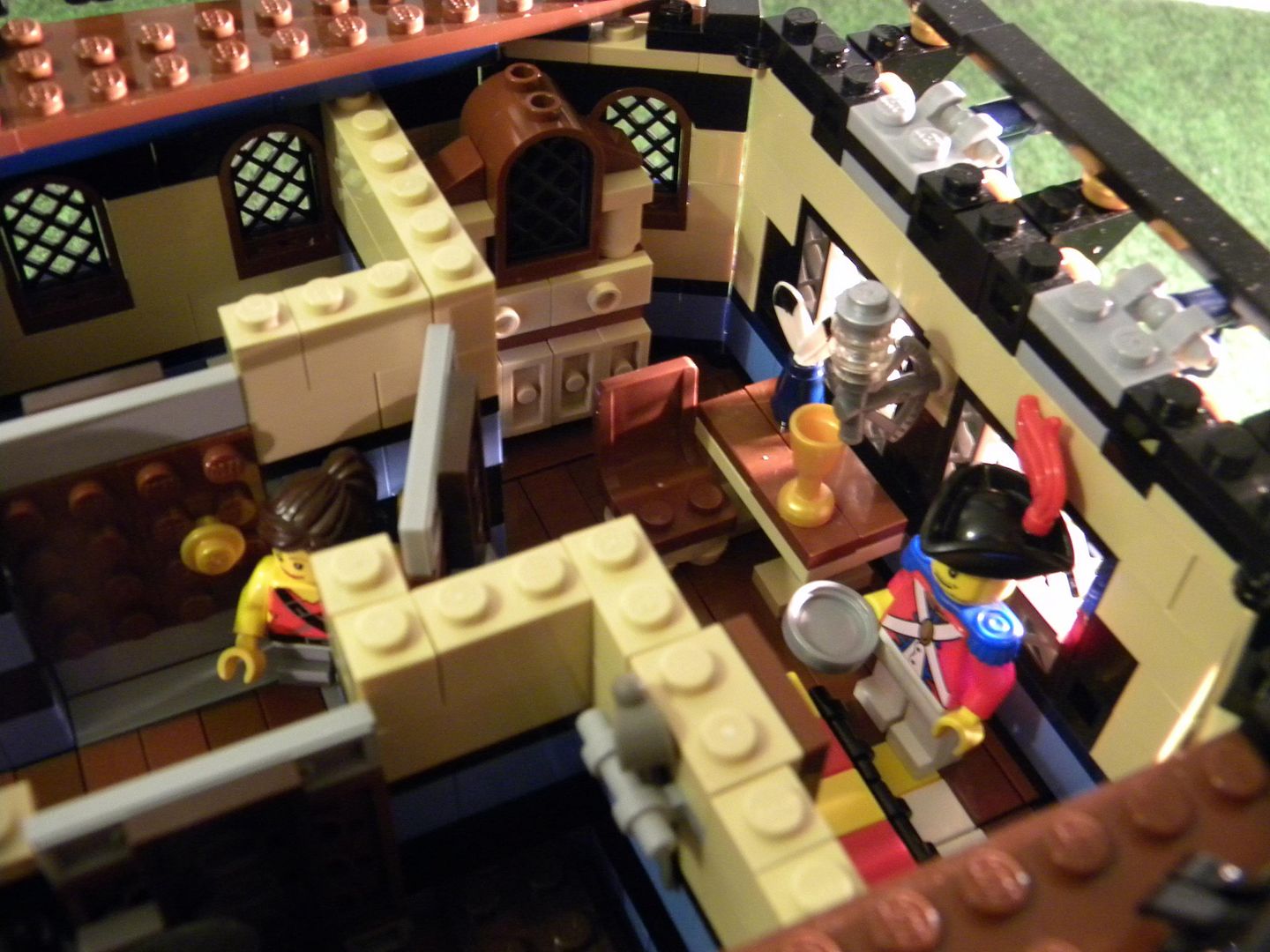 It does not have a lot of room for furniture though…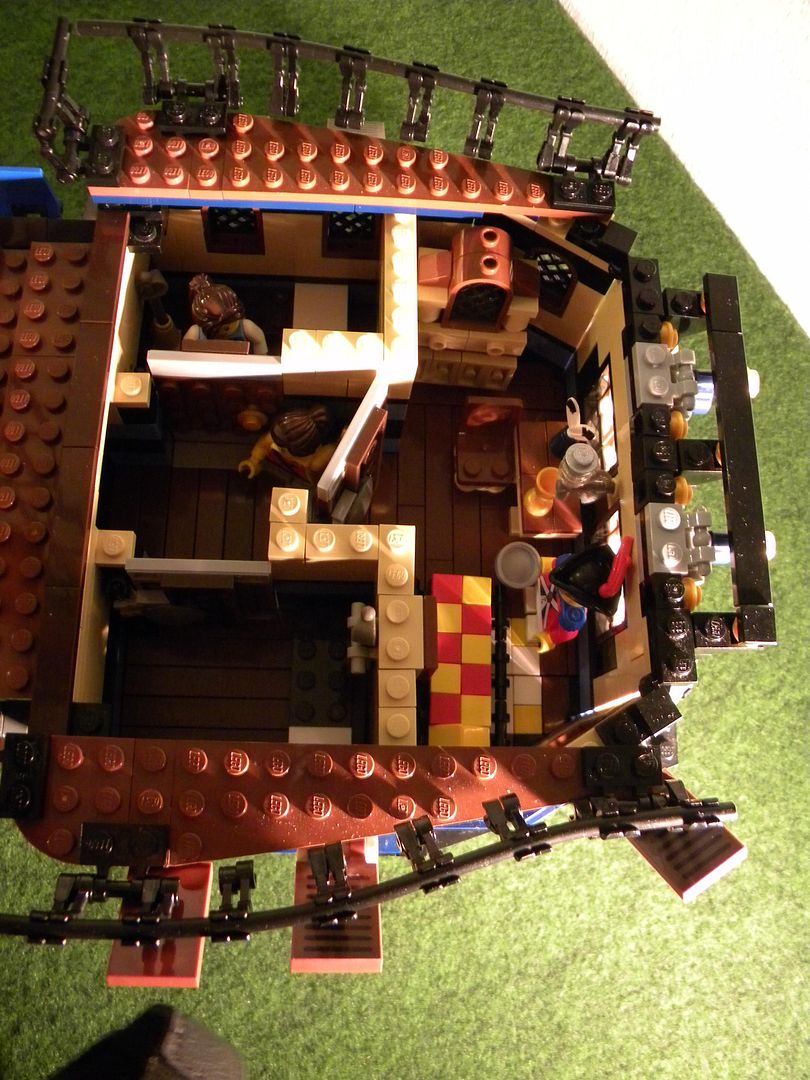 The captain's quarters are more spacious!



King Neptune watches out over the waters…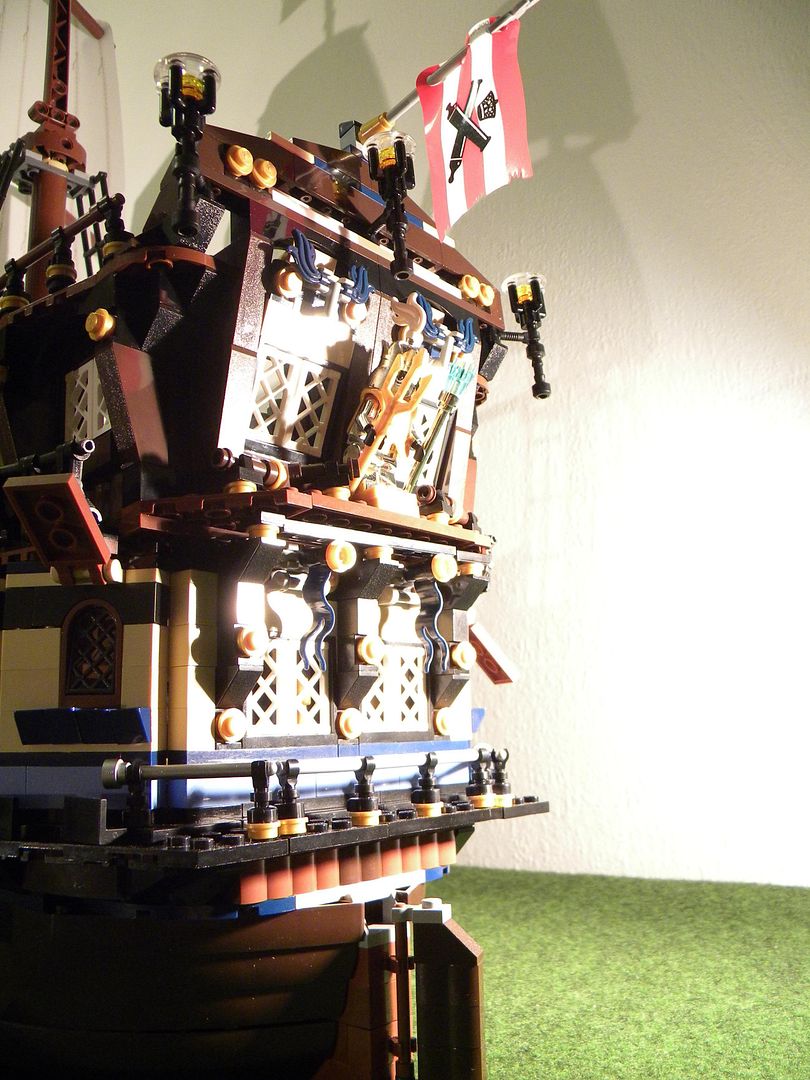 The two middle masts support the second and main deck.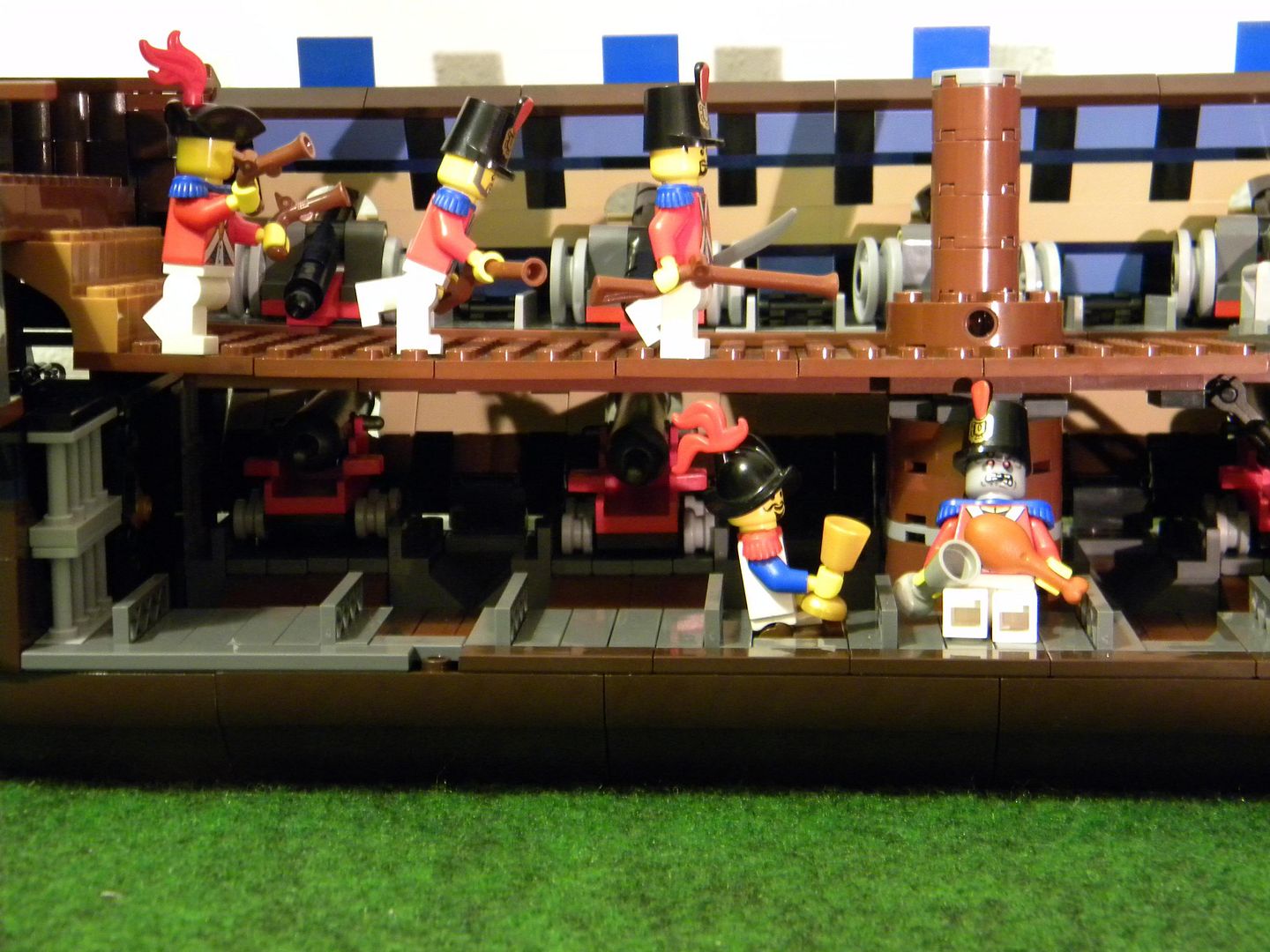 It's quite a balancing act!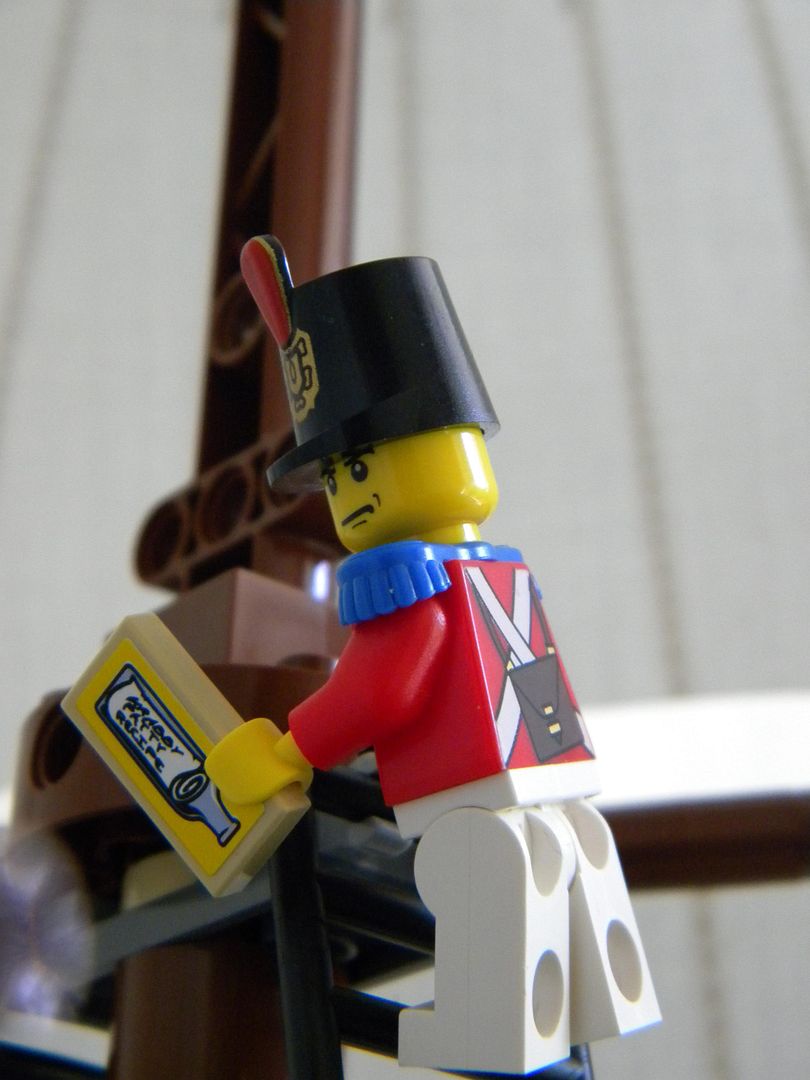 De Bruyne Ster is only two hull pieces longer than the imperial flagship…


But it is considerably taller!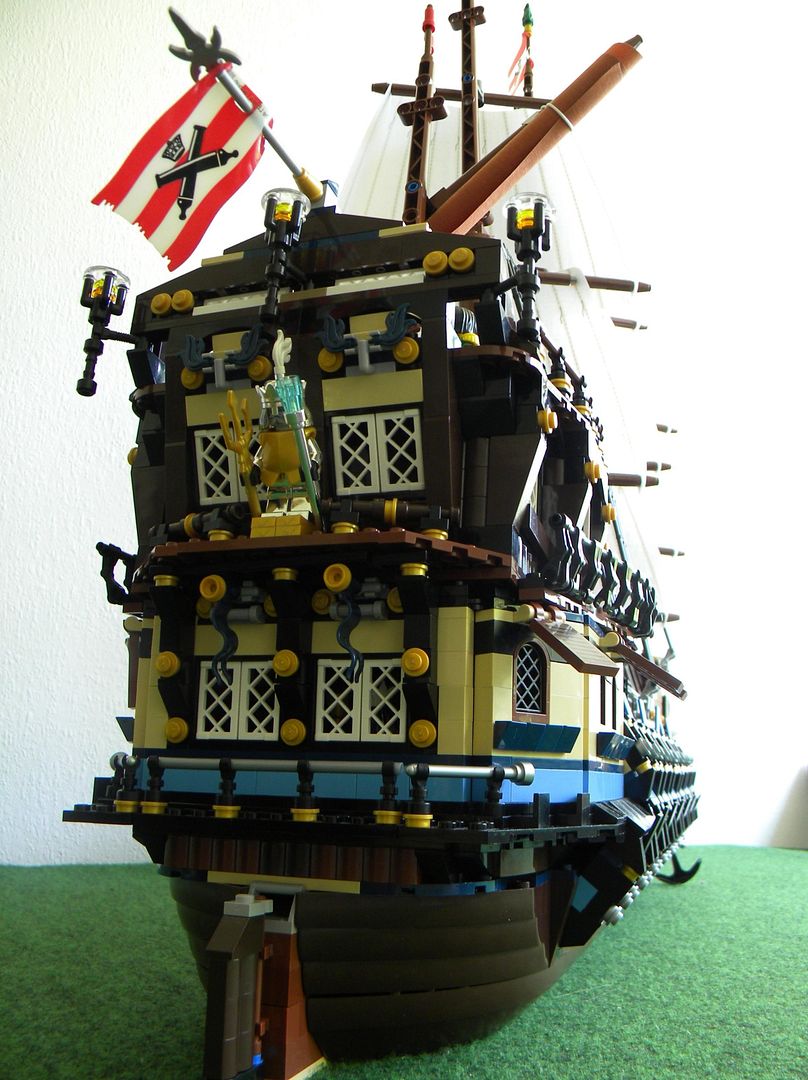 In a lot of ways it still looks like the Imperial Flagship…


In other ways I completely reinvented it!


Building De Bruyne Ster was a real challenge, but something I have been wanting to do for a long time!



Have fun!
Comments
Add a comment
| | |
| --- | --- |
| | I like it |

February 17, 2014

May I just say you are one of the people I aspire to, and I love your builds
| | |
| --- | --- |
| | I like it |

September 15, 2013

This is an inspiring revision of Lego's already spectacular man'o'war! Wow!
| | |
| --- | --- |
| | I like it |

August 25, 2013

Beautiful ship with lot of fantastic details, great build.
| | |
| --- | --- |
| | I like it |

July 5, 2013

Awesome ship . I like the cutaway great for accessibility and saves on cannon smart .
| | |
| --- | --- |
| | I like it |

December 18, 2012

Wow, what a massive ship! I like the internal accessibility.
| | |
| --- | --- |
| | I like it |

October 29, 2012

A wonderfully detailed ship. I really like how you've got the shape right, especially the sides with their tumbleholme, which many builders miss out.
| | |
| --- | --- |
| | I like it |

September 3, 2010

Very nice, I must say it was a pain checking it out with the pictures being so big, but that doesn't change the fact that it's very nice, I like the use of sail barge panels on the windows of the cabin, great job job on the overall shape of the ship as well
| | |
| --- | --- |
| | wow!That is very cool! |
| | |
| --- | --- |
| | I like it |

July 29, 2010

Great ship, but maybe too big photos ;)
| | |
| --- | --- |
| | I like it |

July 12, 2010

Excellent! A ship and with interior, I have to like it :-)
| | |
| --- | --- |
| | I like it |

July 11, 2010

Well rattle me timbers!
| | |
| --- | --- |
| | I like it |

July 11, 2010

Epic
| | |
| --- | --- |
| | I like it |

July 11, 2010

Excellent, i realy like it, nice details...definitely too much work.
| | |
| --- | --- |
| | I like it |

July 11, 2010

Truly a beautiful ship.
More from Vladimir
More across MOCpages